Shine I The vocation for customization
Azzurra's vocation for customization passes through careful technological research in the area of surfaces: the range of finishes is expanded with new color experiments that explore the shiny effect with three soft shades and three brighter ones. In addition to these six nuances, the new finishes make glossy white and glossy black available, increasing the potential of the Azzurra bathroom furniture.
Colors: Glossy white, Glossy peach, Glossy sage, Glossy stone, Glossy Mango, Glossy cherry, Glossy Ocean, Glossy black.
Elegance Croma I A new approach to color
Defined and rigorous volumes for the Elegance Croma furniture collection, the polished metal structure acts as a perfect housing for the Elegance washbasin creating two volumes: a practical open compartment and a large container drawer in polished metal.
The new proposal is characterized by a new approach to color in the Azzurra bathroom furniture. The furniture is in fact proposed in five different colors integrating strong and neutral shades, complementary expressions of the contemporary bathroom.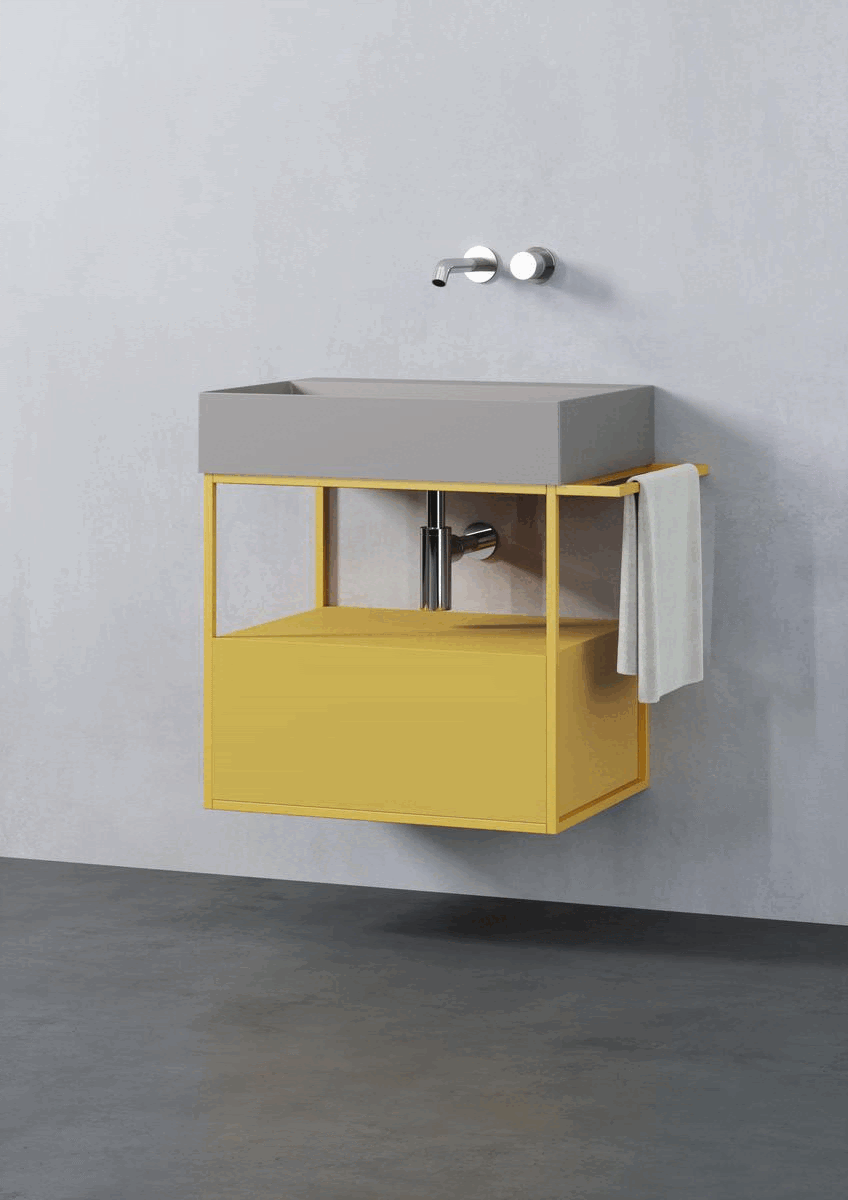 Charlotte and Leuca | Architectural lines and nature's suggestions
The new furniture proposal designed by Diego Grandi, on the occasion of Milan Design Week 2022, owes its name to the architect Charlotte Perriand, an exponent of the current of the Modern Movement and the bearer of a profound renewal of the aesthetic standards of her time.
The column with rounded lines is the central element of the new collection, it is proposed in wood species such as oak or walnut, and reinterprets the classic ceramic material.
Il piano in legno è disponibile sia in quattro dimensioni standard, da 80 fino a 160 cm, sia per progetti su misura: lo sviluppo orizzontale soddisfa così le diverse necessità di utilizzo e spazio. Il modello può essere inoltre integrato anche da un cassetto inferiore in finitura laccata in tre nuances.
Il piano di appoggio di Charlotte, perfetto abbinamento per il lavabo Leuca, diventa così espressione dell'attitudine alla personalizzazione di Azzurra.
The wooden top is available both in four standard proposals, from 80 to 160 cm, and for tailor-made projects: the horizontal development thus satisfies the different needs of use and space. The model can also be integrated with a lower drawer in lacquered finish in 3 shades.
The Charlotte countertop, a perfect match for the Leuca washbasin, is an expression of Azzurra's aptitude for personalization.