The range of Azzurra washbasins is one of the most complete that can be found on the market: the different geometries and the wide assortment of sizes proposed in the catalogue are easily adaptable to any type of bathroom.
The Azzurra washbasins are made exclusively of ceramic, they are available both in the classic GLOSSY WHITE finish and in the coloured finishes COLORS 1250°, LE MALTECERAMICHE and LUXURY and are designed for many types of installation.
COUNTERTOP WASHBASINS are positioned directly on furniture or shelves. A particularly elegant and modern solution that, with a wide variety of shapes and finishes, adapts to many styles and bathroom environments. They are complemented by a wall-mounted mixer or a high mixer installed directly on the counter top of the washbasin.
For those who prefer to choose a washbasin equipped with a top to be used for the support of accessories, and prepared with the hole for the installation of the taps directly on the ceramic, in the Azzurra catalogue there are different solutions able to combine the essential aesthetics of the countertop washbasin, with the functionality of the washbasins with top and single hole.
AZZURRA ELEGANCE is a collection that proposes countertop washbasins with a refined design made of ceramic with edges with a minimum thickness of only 3 mm. The collection includes the variants ELEGANCE CIRCLE, ELEGANCE SOFT, ELEGANCE SQUARED and ELEGANCE ZIP that interpret the theme in different shapes and sizes.
FREESTANDING WASHBASINS are monolithic washbasins that rest directly on the floor and can be placed against a wall or positioned freely in the bathroom.
The GRAAL freestanding washbasin, an iconic product of the Azzurra collections, with its evocative nature or the HERA freestanding washbasin, with its dynamic shape, are products with a sculptural character suitable for creating bathroom environments with a strong scenic effect.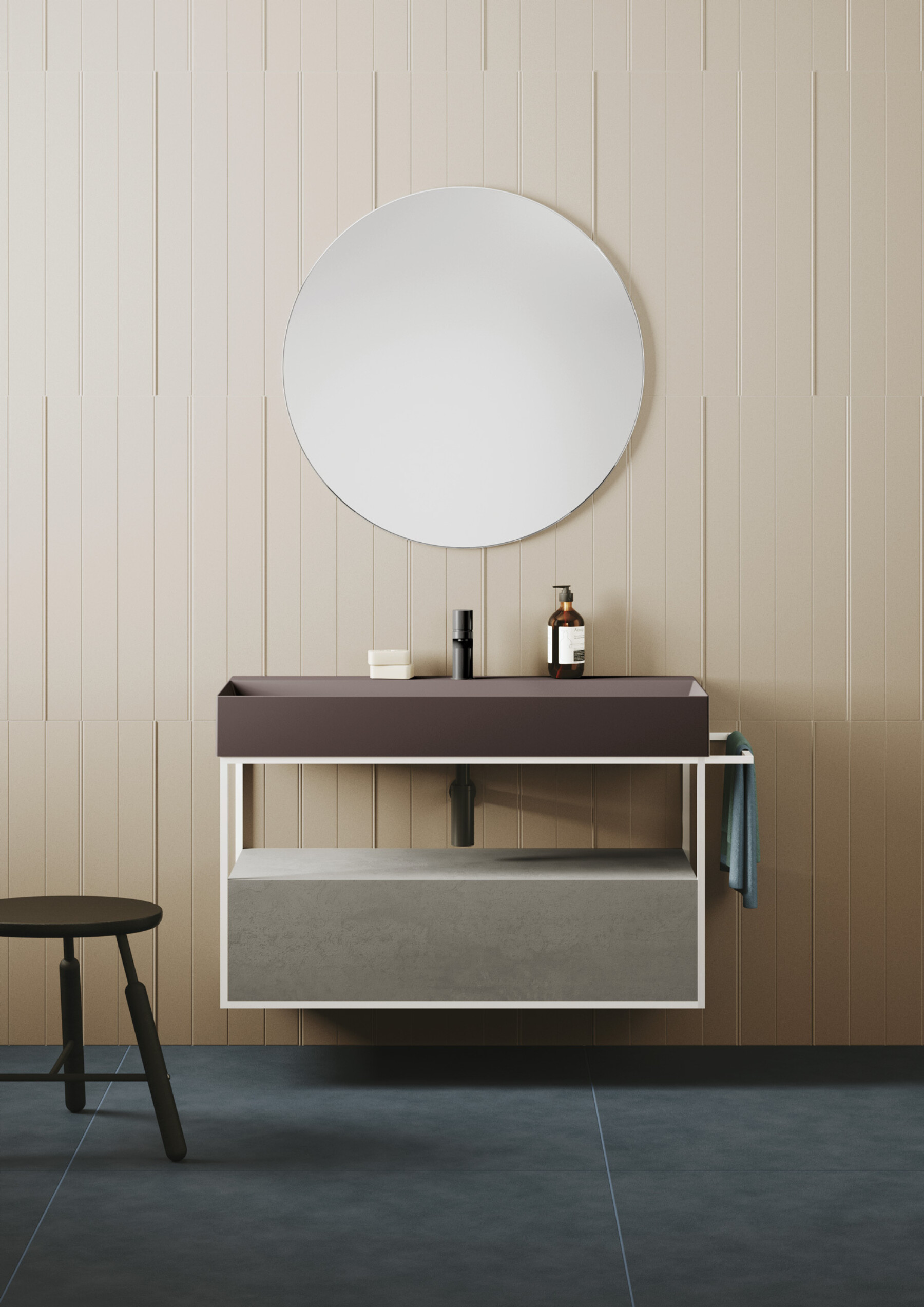 Thanks to Azzurra's 360° vision of the bathroom project, the washbasin area can be integrated and completed by a proposal of complements such as MIRRORBOOK, the tilting mirror that reinterprets the container mirror in a minimalist key, or FRANKY, the innovative circular backlit mirror equipped with magnetic accessories that can be positioned freely over the entire mirror surface.